Gluten Free Pumpkin Cookies that are so easy to make and taste delicious!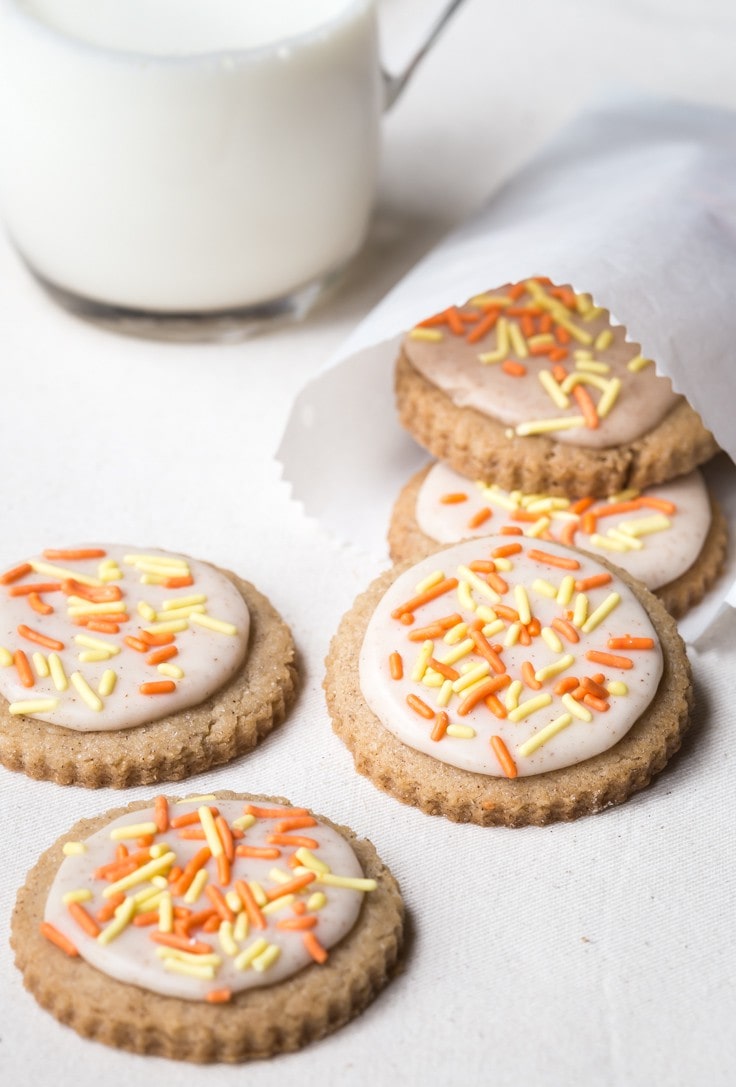 How to make Gluten Free Pumpkin Cookies
I'm just loving Pumpkin Spice anything right now and so I figured I'd better get another recipe with it on the blog before Halloween and Thanksgiving rolls around and pumpkin spice is relegated to the shelf until next year.
Did you see my Gluten Free Pumpkin Spice Cookies with Orange I made last month? They're also really nice cookies, but they are a bit softer and crumblier. This gluten free pumpkin cookie is a little harder and crunchier, more like a Ginger Snap kind of texture. And if you're looking for more fantastic pumpkin cookies try these Gluten Free Pumpkin Chocolate Chip Skillet Cookies from Gluten Free Palate.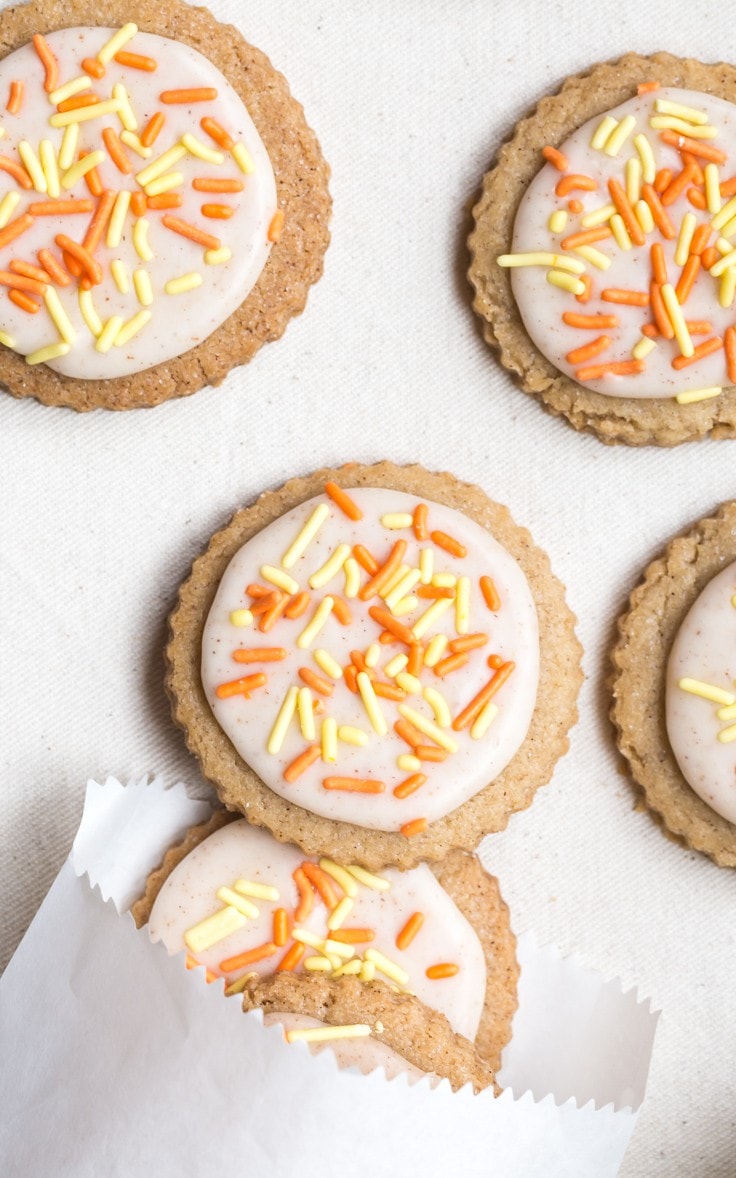 I haven't done a lot of baking lately as I don't eat too much of it, but my youngest son who also has Celiac Disease loves to have a home made gluten free treat to take to school. We are not averse to buying store bought gluten free cookies, but I do balk at some of the prices.
This past week my husband came home with frozen muffin top type things that were almost $7 for a tiny box, and if that wasn't bad enough my son then told me he didn't like them as they tasted terrible!
He doesn't need persuaded that home made is better (and cheaper!) so I made these Gluten Free Pumpkin Cookies for him. They freeze really well and my  son informs me that they taste great right out of the freezer, still frozen! "They're just cold, and a little bit more crunchy!"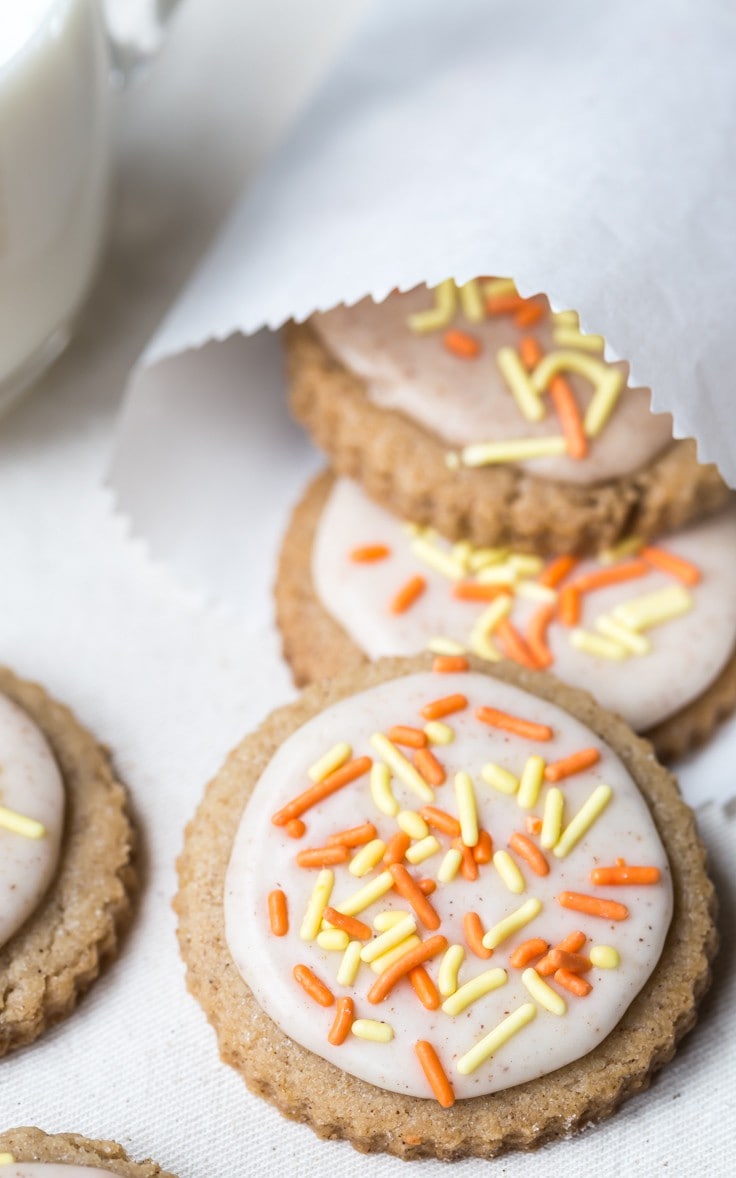 The icing is really, really basic. It's just powdered sugar, lemon juice and pumpkin spice, you can add as much or as little of these ingredients as you want to get it to taste as pumpkin spicey or lemony as you like!
The dough is also very simple to make, I used a rolling pin and cookie cutter to cut them out but I'm sure you could just make little balls of dough and flatten them by hand or with a fork if you don't have a suitable cutter.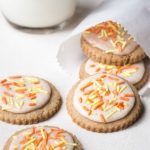 Gluten Free Pumpkin Cookies
Gluten Free Pumpkin Cookies that are so easy to make and taste delicious!
Ingredients
1/2

cup

dairy free margarine, or butter

110g

1/2

cup

white sugar

110g

1/2

cup

soft brown sugar

110g

1

tsp

pumpkin pie spice

1.5

cups + 1 tbsp

all purpose gluten free flour mix

225g

½

tsp

gluten free baking powder

¼

tsp

xanthan gum

omit if your flour has gum added)

1

large egg
Icing
1

cup

powdered sugar

125g

2

tsp

lemon juice

sprinkles or funfetti
Instructions
*READ NOTES*

Preheat your oven to 350f and line a couple of cookie sheets with parchment.

Measure out the sugar and margarine, and add it to your mixing bowl, cream them together.

Add in the flour, pumpkin pie spice, xanthan gum if needed, and baking powder, and egg, and then mix until combined, don't forget to scrape down the bowl.

So now you have two choices for your cookies, you can either make even sized little balls and flatten them with your hand or a fork onto the cookie sheet.

Or, you can roll out the cookie dough and use a cuttter, it's really up to you.

If you make the cookies thin they will cook quicker and you will get a harder more crunchy cookie, if you prefer a softer cookie then make them thicker, about 1/2 inch and don't bake for quite as long.

Bake for 8 - 12 minutes.

When fully cooled you can ice the cookies if you like, this is optional.

Simply add the powdered sugar and lemon juice to a bowl and mix, add in some pumpkin pie spice until you get the taste you like, then decorate with the icing and sprinkles.
Recipe Notes
1. I bake by weight as I find that gives the most consistent results, especially when baking gluten free. One cup of your gluten free flour blend may not weigh the same as my blend, all the commercially available blends have different mixes and ratios of flour in them. I've weighed cups of different blends of flour and noted that a cup of gluten free flour can vary in weight from 125g up to as much as 170g depending on how you scoop it, and what type of mix you use. You can see how this could drastically alter the outcome of a recipe.

I recognise that most Americans are used to the cup method which is why I also include those measurements,but they may not give you accurate results. If you are a keen gluten free baker I would encourage you to invest in a scale, you can get one for only $10 - $15.

2.I prefer to use my own homemade gluten free flour blend as it's cheaper and I get really great results.

3. If you can, avoid buying flour with gums already added. The reason for this is that you have no way of knowing how much gum is in there and that can alter the outcome of the recipe. So for example, too much gum can give you a more sticky texture in a cupcake. And though the cupcake recipe will still work, it won't be as nice as if you measured and added the gum yourself.
Nutrition Facts
Gluten Free Pumpkin Cookies
Amount Per Serving
Calories 135
Calories from Fat 36
% Daily Value*
Total Fat 4g 6%
Cholesterol 6mg 2%
Sodium 49mg 2%
Potassium 21mg 1%
Total Carbohydrates 23g 8%
Protein 1g 2%
* Percent Daily Values are based on a 2000 calorie diet.

This post may contain affiliate links . There are no additional costs passed on to you if you click on the links in this post. Any money earned from commission helps me cover the cost of maintaining this website.