The BEST ever Gluten Free Pumpkin Spice Cookies with Orange! You won't taste a nicer cookie this fall!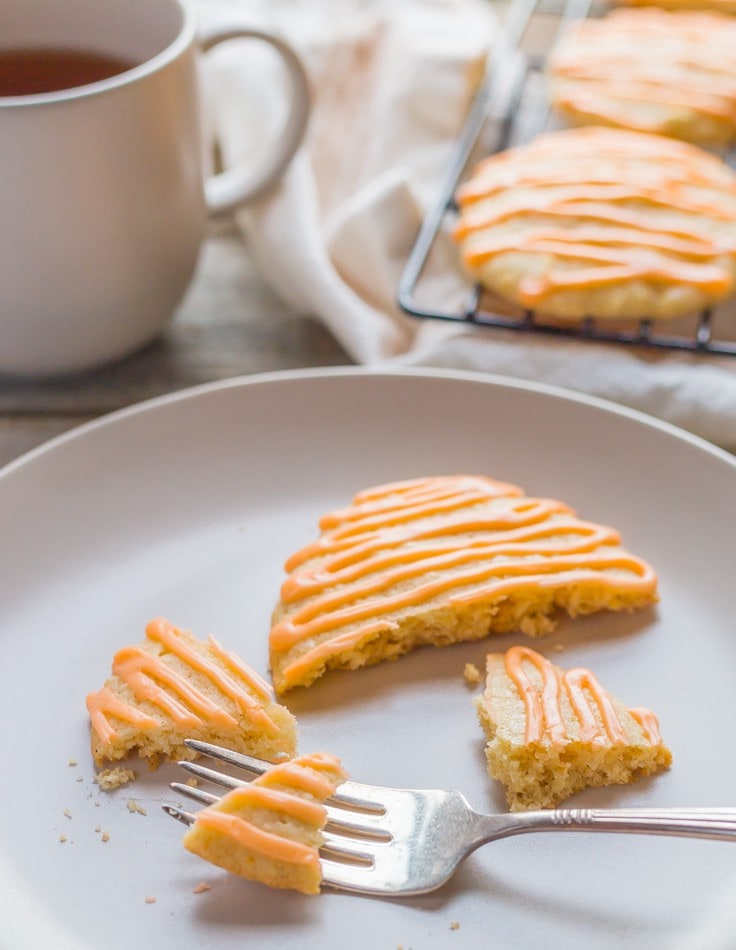 It's Labor Day Weekend, College Football has started, so I figured it's as good a time as any to get out the Pumpkin Pie Spice.
I must admit that I'm not a massive pumpkin fan (sorry) but I do love the smell and taste of pumpkin pie spice and I love Butternut Squash, does that count? It's been a little challenging for me to come up with pumpkin recipes in general as I didn't grow up eating pumpkin anything back in Scotland, but I've cooked a few things with it since I moved here in 2008 and I think I've got the hang of it.
This week I tweaked one of my own cookie recipes and ended up with some Gluten Free Pumpkin Spice Cookies, I added orange zest and a little orange juice to give it an additional flavor boost.  Just like the Pumpkin Spice Latte from that famous coffee house, there's no actual pumpkin in the cookie, just some pumpkin spice. I'm sorry to disappoint anyone who was looking for the real deal here!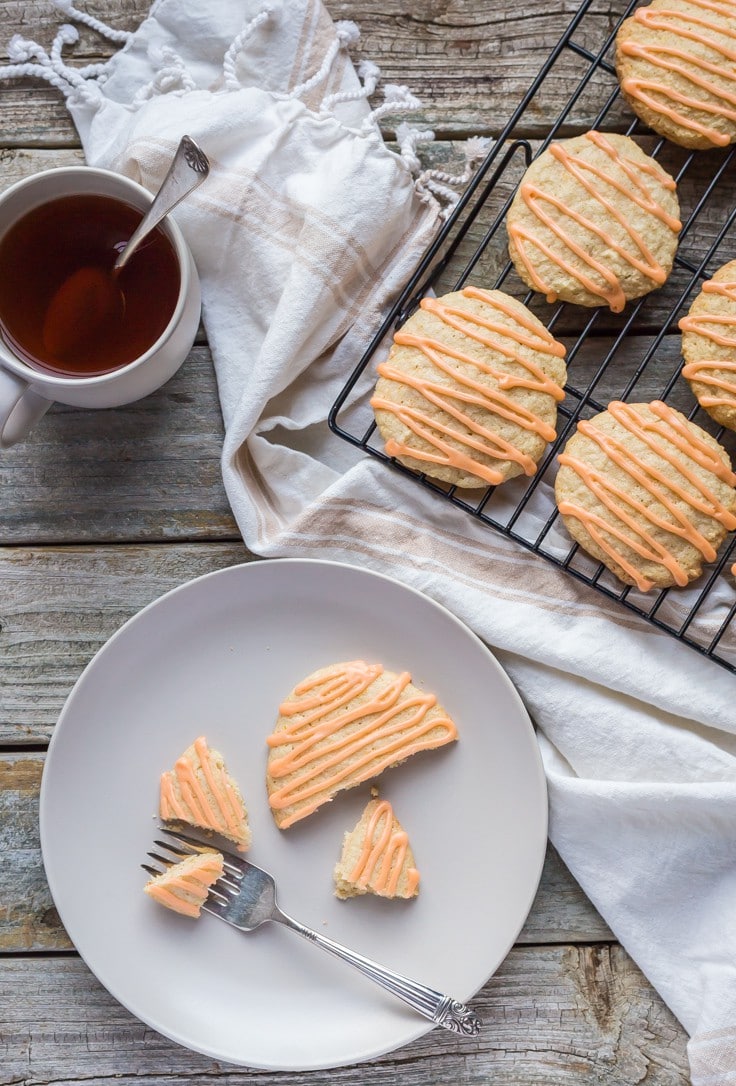 I decided to ice them with orange flavored icing. If you are feeling particularly decadent you could ice the entire cookie, but a little drizzle was enough for me. I haven't frozen these cookies but I have frozen others with a very similar recipe and they defrosted well and still tasted great. They will probably only keep a day or two before they start to get soft, home made gluten free baked goods tend not to keep as long as regular baked goods.
As always I've included my thoughts on gluten free baking by weight and not by volume in the notes section of the recipe, and If you're interested you can purchase a digital scale (affiliate link) from Amazon which is very similar to the one I currently use.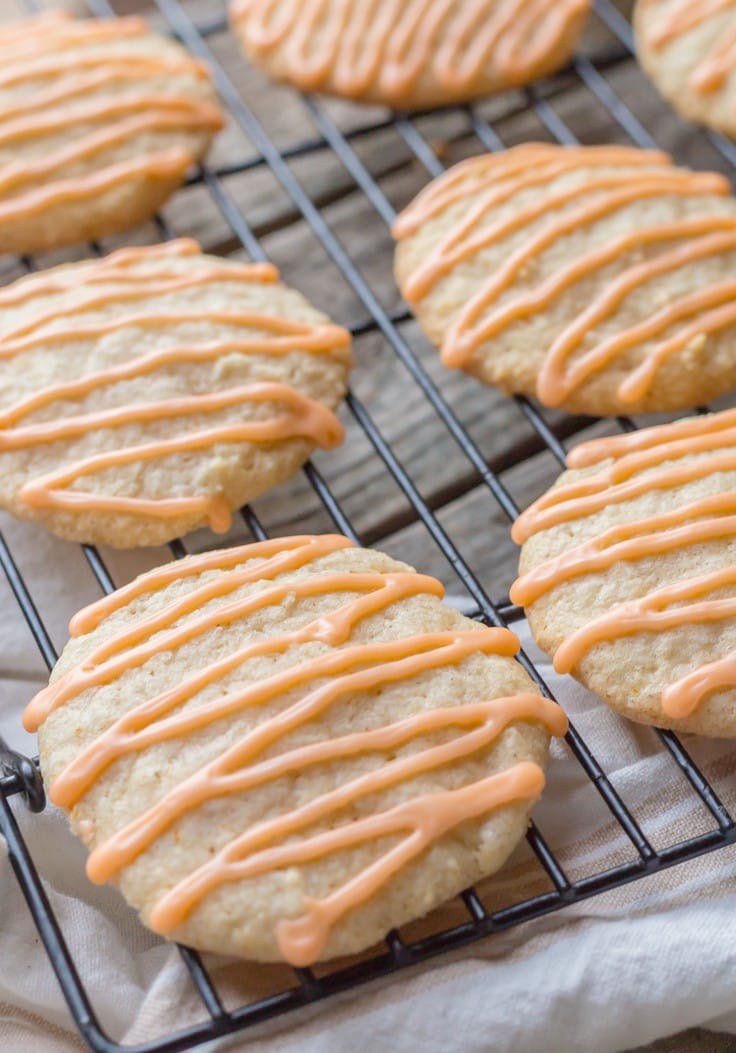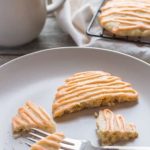 Gluten Free Pumpkin Spice Cookies with Orange
Easy to make Gluten Free Pumpkin Spice Cookies with Orange!
Ingredients
1.5

cups

all purpose gluten free flour mix

225g

¼

tsp

xanthan gum

(omit, if your flour has gum added)

1/2

cup

dairy free margarine

110g (I use Earth Balance)

1

cup

sugar

225g

1

large egg

1/2

tsp

pumpkin pie spice

½

teaspoon

gluten free baking powder

zest of 1 orange

1

tbsp

fresh orange juice
Icing
1

cup

powdered sugar

orange food coloring

orange juice
Instructions
*PLEASE READ NOTES FIRST!*

Preheat your oven to 350F.

Cream margarine and sugar together, don't overdo it as the margarine is very soft and you don't want it to become too liquid. Then add egg, pumpkin pie spice, orange zest, orange juice and mix briefly to combine.

In a separate bowl mix together the flour, xanthan gum, baking powder, you want to make sure the gum is evenly distributed.

Add the flour mixture slowly to the margarine and sugar and mix together, don't forget to scrape the sides and bottom of the bowl and make sure it's all incorporated.

The mixture will likely be quite soft so cover the bowl with cling wrap and put it in the fridge for about 20 minutes to harden up a little.

While the dough is hardening line a cookie sheet with parchment paper.

Once the dough has hardened up a little, take a generous tablespoonful of the dough and flatten it gently with a fork on the parchment lined cookie sheet to about ⅜ths - ¼ of an inch thick.

The dough will still be very soft and you will need to scoop it out with a spoon, it will not be hard like a cut out cookie recipe.

Repeat until your cookie sheet is full, I got about eight cookies to a half sheet pan, they do spread out a bit once they start to cook.

Bake for 13 - 15 minutes in a 350F oven.

Allow to cool a little before transferring from baking sheet onto a cooling rack.

OPTIONAL ICING

I didn't really measure this out accurately, but I used about a half to one cup of sieved powdered sugar and then added about a teaspoon at a time of orange juice until I got a runny consistency of icing suitable for drizzling across the top of the cookies, I added a tiny bit of orange food coloring to the mix too.

The icing will not dry hard like royal icing made with egg white or meringue powder, but it should dry out somewhat within a few hours.
Recipe Notes
1. I bake by weight as I find that gives the most consistent results, especially when baking gluten free. One cup of your gluten free flour blend may not weigh the same as my blend, all the commercially available blends have different mixes and ratios of flour in them. I've weighed cups of different blends of flour and noted that a cup of gluten free flour can vary in weight from 125g up to as much as 170g depending on how you scoop it, and what type of mix you use. You can see how this could drastically alter the outcome of a recipe.

I recognise that most Americans are used to the cup method which is why I also include those measurements,but they may not give you accurate results. If you are a keen gluten free baker I would encourage you to invest in a scale, you can get one for only $10 - $15.

2.I prefer to use my own homemade gluten free flour blend as it's cheaper and I get really great results.

3. If you can, avoid buying flour with gums already added. The reason for this is that you have no way of knowing how much gum is in there and that can alter the outcome of the recipe. So for example, too much gum can give you a more sticky texture in a cupcake. And though the cupcake recipe will still work, it won't be as nice as if you measured and added the gum yourself.
Nutrition Facts
Gluten Free Pumpkin Spice Cookies with Orange
Amount Per Serving
Calories 107
Calories from Fat 27
% Daily Value*
Total Fat 3g 5%
Cholesterol 6mg 2%
Sodium 34mg 1%
Potassium 10mg 0%
Total Carbohydrates 18g 6%
Protein 1g 2%
* Percent Daily Values are based on a 2000 calorie diet.
This post may contain affiliate links . There are no additional costs passed on to you if you click on the links in this post. Any money earned from commission helps me cover the cost of maintaining this website.