This Gluten Free Fruit Pizza is easily made out of brownie mix, topped with yummy Raspberry cream cheese frosting, and then decorated with an array of fresh fruit, what's not to love?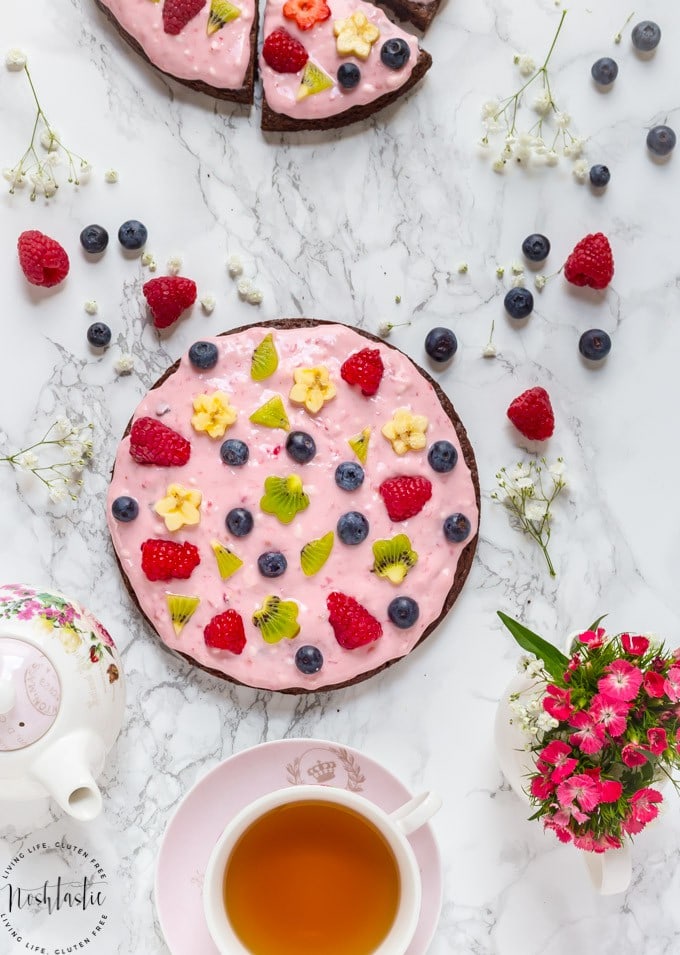 Gluten Free Fruit Pizza with Raspberry Cream Cheese Frosting
This is a great option if you are hosting people in your home, you can knock out the brownie bases pretty quickly as they are made from a gluten free brownie mix so it's easy to feed a crowd with them.
The cream cheese frosting is even easier to make and you can top it with any soft fruit you like.
So for my readers benefit I decided to try this for breakfast and I can report that it was ten times better than any breakfast cereal, you're welcome!
It's also good with a cup of tea in the afternoon, and for dessert if there's any left by that time 🙂
This post may contain Amazon affiliate links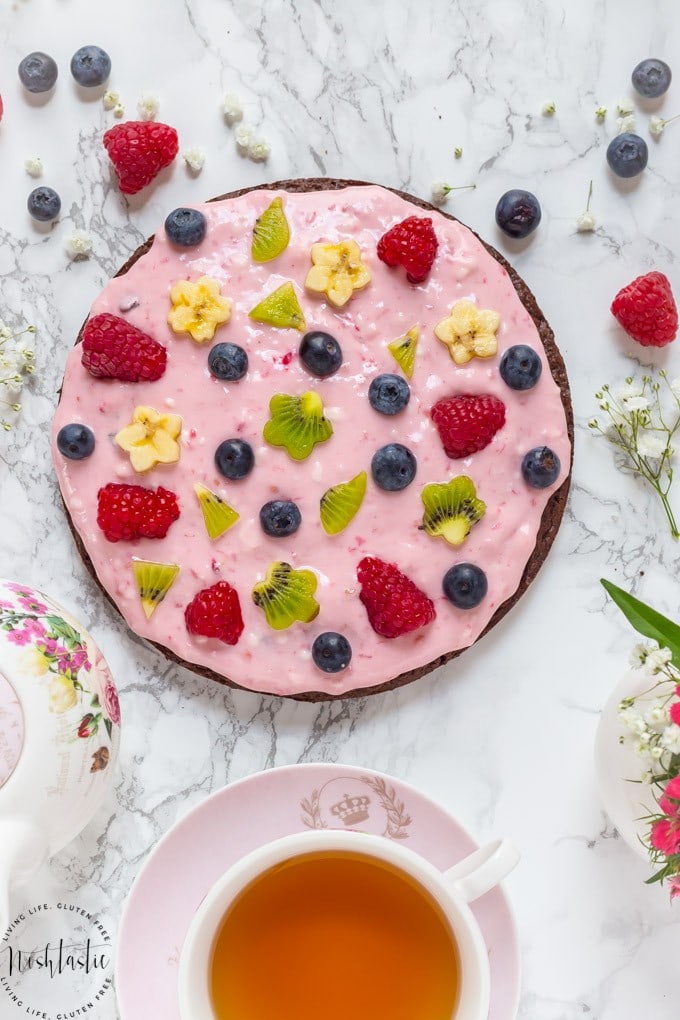 Seriously though, it's now on the list of my favorite desserts because it looks so impressive but it's truly easy to make.
I don't make a lot of cakes and cookies from boxed mixes, but I've found that brownie mixes are pretty good and make it very easy to throw this together.
One tip for you that I learned the hard way: even if you have non stick cake pans you really ought to line the base with parchment paper as cookie brownie mixture sticks to it like a beast.
The first time I made them I had to use a sharp knife to try and pry them from the base of the cake pan, that was not fun and not very good for my non stick pan either.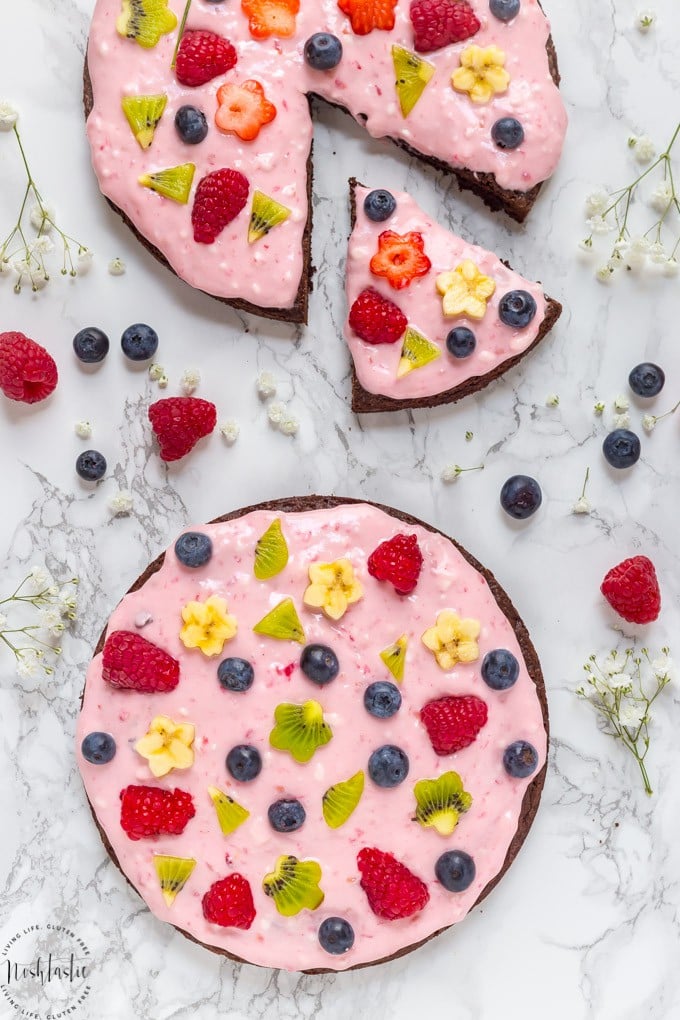 I have cake pans that have pop up bottoms, it is easy to get the brownie bases out when they first come out of the oven and are still soft, If you let them harden in the pan then you will find that they stick fast to the sides.
It's a good idea to wait to add the frosting and fruit until close to the time you plan to serve it.
The frosting will hold up okay and the brownie base doesn't really get soggy, but the fruit will start to get soft in the frosting if left on it for too long and if you are using bananas they will turn brown after a few hours.
MORE GLUTEN FREE DESSERTS YOU'LL LOVE!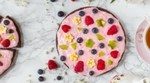 Gluten Free Fruit Pizza with Raspberry Cream Cheese Frosting
Make this pretty gluten free fruit pizza in less than an hour with a box of brownie mix, so easy!
Ingredients
1

box of Gluten Free Brownie Mix

eggs and oil to make brownie mix

Soft fruit for topping

CREAM CHEESE FROSTING

8

oz

full-fat cream cheese

softened

¼

cup

soft butter

2

cups

powdered sugar

1

tsp

vanilla extract
Instructions
Preheat your oven to the temperature stated on the brownie box mix.

line two 8in cake pans (removable bottom pans only!) with parchment paper otherwise you will find the brownies bases will stick to the pan, even if they are non stick pans.

Prepare the brownie mix according to the instructions on the box, then divide it evenly between the two lined cake pans and spread it to the edges to make the pizza bases.

Bake according to directions on the box.

While the bases are cooking prepare the frosting by adding all the ingredients to a mixing bowl and blend until combined.

Prepare your fruit by cutting it into thin slices.

When the brownie bases have cooked remove them from the cake pans before they cool, otherwise they may stick to the sides.

Wait until the brownie bases are fully cooled before you move them off the base of the cake pans, they may be too soft to move while they are still hot and may fall apart if you try.

Once the bases are fully cooled, add the cream cheese frosting and then decorate with fruit, and serve.
Nutrition Facts
Gluten Free Fruit Pizza with Raspberry Cream Cheese Frosting
Amount Per Serving (152 g)
Calories 647
* Percent Daily Values are based on a 2000 calorie diet.
Also posted on Amanda's Cooking