A delightfully festive Gluten Free Cranberry Upside Down Cake that is perfect for the holidays!
It's always very satisfying to successfully convert a recipe that you've had for years into a delicious gluten free version that's really very similar to the original. My recipe for Gluten Free Cranberry Upside Down Cake comes from an old Nigella Lawson baking book that I brought with me from London when we first moved to Mississippi in 2008. I've cooked many of her recipes but this is one of my favorites.
The original recipe calls for regular granulated sugar but when I was asked to partner with T-Sugars and come up with a gluten free recipe suitable for the holidays I knew that this cake would fit the bill perfectly. T-Sugars sent me three of their lovely gourmet sugar products to try; their Belgian Cassonade Sugar, Icing Sugar Mill, and Cassonade Syrup. The Belgian Cassonade Sugar really does live up to its gourmet description. It has such a fine texture compared to other brown sugars I've tried in the past which means that it's an ideal brown sugar for baking with.You can find T-Sugar's products at Rouses, Albertsons, Heb, Fred Meyer and Bi-Mart.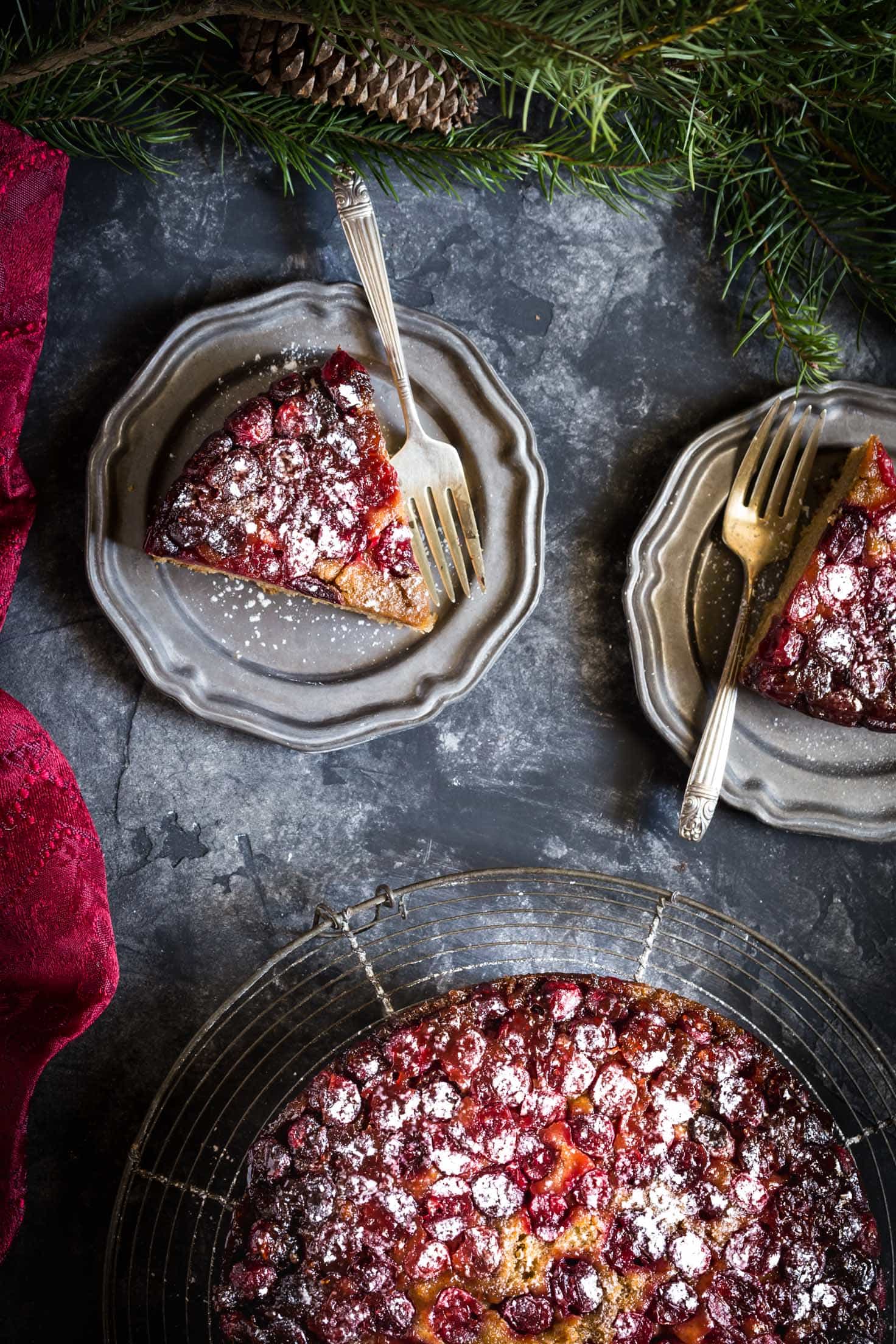 To bake this cake you'll need either an 8inch cast iron skillet or cake pan with a solid bottom. Don't be tempted to use a springform cake pan because all the sugary goodness on the bottom of the cake will leak out and that would be a tragedy! Baking time will vary according to your oven but it usually takes about 30 – 40 minutes, but try not to over bake it or you may end up drying out the cake a little.
You can serve this cake hot from the oven or cold. If you can tolerate dairy products then I think it would be lovely served with a topping of whipped cream or a side of vanilla ice cream. Personally speaking, I love eating this cake as a deliciously festive alternative to a regular breakfast muffin. And if you don't manage to eat it all in one sitting then it will keep perfectly well in an airtight container in the fridge for a couple of days, or it can be frozen and enjoyed later.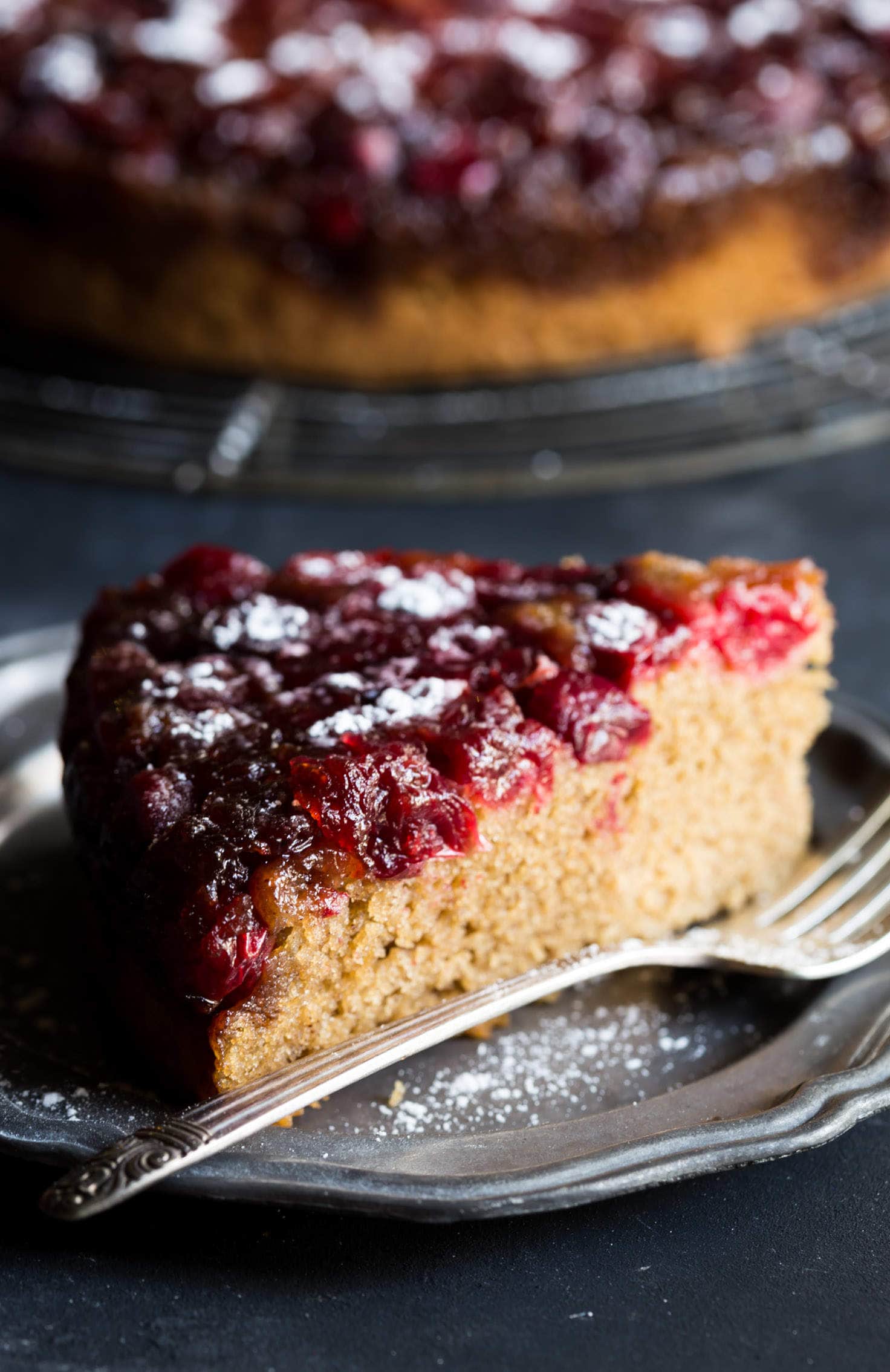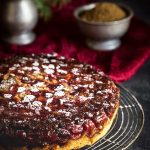 Gluten Free Cranberry Upside Down Cake
A delightfully festive Gluten Free Cranberry Upside Down Cake that is perfect for the holiday season!
Ingredients
50

g

plus 125g dairy free margarine or butter

1/5th cup, 1/2 cup

150

g

plus 125g T-Sugars Cassonade Sugar

3/4 cup, 2/3 cup, or brown or white sugar

175

g

cranberries

1 + 3/4 cups

130

g

(3/4 cup

approx) All Purpose Gluten Free Flour

2

tsp

baking powder

1/2

tsp

xanthan gum

1

tsp

cinnamon

2

large eggs

2

tbsp

non dairy milk

I use unsweetened soy
Instructions
PLEASE READ NOTES FIRST

Preheat your oven to 350F / 180c

In your cast iron skillet (or another pan if you're using a cake pan to bake in) add in 50g (1/5th cup) margarine and 150g (3/4 cup) Cassonade sugar and melt together over a low heat, when the margarine has melted add in the cranberries and stir well to coat them.

Put all the remaining ingredients into a mixer and blend together so that you get a soft dropping consistency.

If using a cake pan grease the sides and then add the cranberry and sugar mixture.

Now you need to add the cake batter to your pan and place it on a sheet pan in the oven to bake for 30 - 40 minutes, until it's cooked in the middle and has shrunk back from the edges of the pan a little.

If you need to you can use a toothpick in the center of the cake to see if it's cooked or not.

Remove from the oven and carefully place a plate on top of the pan and then turn it upside down and lift the cake pan off.
Recipe Notes
You will need an 8 inch cake pan, tarte tatin dish or cast iron skillet to bake this cake in.

1. I bake by weight as I find that gives the most consistent results, especially when baking gluten free. One cup of your gluten free flour blend may not weigh the same as my blend, all the commercially available blends have different mixes and ratios of flour in them. I've weighed cups of different blends of flour and noted that a cup of gluten free flour can vary in weight from 125g up to as much as 170g depending on how you scoop it, and what type of mix you use. You can see how this could drastically alter the outcome of a recipe.

I recognise that most Americans are used to the cup method which is why I also include those measurements,but they may not give you accurate results. If you are a keen gluten free baker I would encourage you to invest in a scale, you can get one for only $10 - $15.

2.I prefer to use my own homemade gluten free flour blend as it's cheaper and I get really great results.

3. If you can, avoid buying flour with gums already added. The reason for this is that you have no way of knowing how much gum is in there and that can alter the outcome of the recipe. So for example, too much gum can give you a more sticky texture in a cupcake. And though the cupcake recipe will still work, it won't be as nice as if you measured and added the gum yourself.
This post has been sponsored by T-Sugars. As always all opinions are my own.