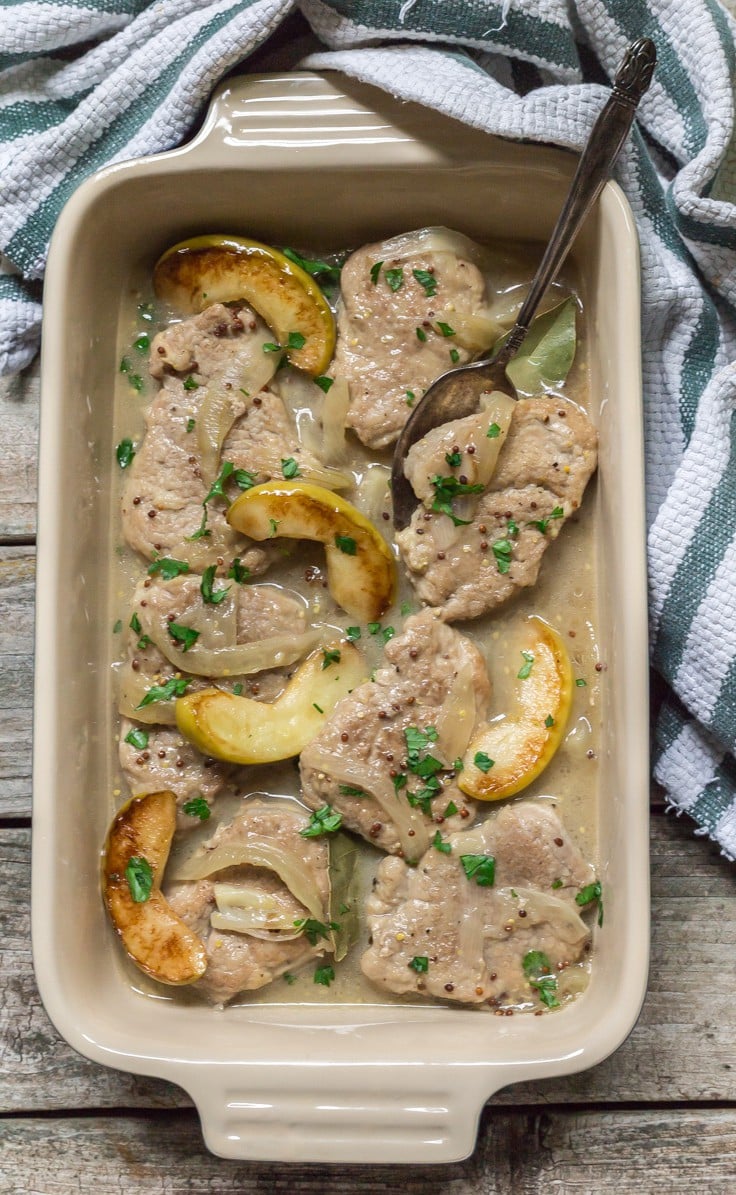 I'm always looking for simple and quick ideas for weeknight dinners. We rarely eat out or get takeout as a family as I really prefer to cook from scratch, but like most families we are pushed for time every day.
If I can get a healthy meal on the table in less than thirty minutes and make it in one pan then that's a major achievement for me! My kids are not particularly picky eaters, but they are not slow to tell me if they don't like something I've made. Thankfully they enjoyed my Pork and Apple Skillet dinner and came back for more, I also had enough to freeze for later.
You could make it with small pork chops, but the pork tenderloin is a much more tender cut of meat and doesn't tend to dry out the way that a pork chop can. I used Granny Smith apples but I don't think it matters too much what type of apples you use, if you have a different variety in your fruit bowl then I'm sure it will work equally well. And we love the Maile Brand of Old Style Grain mustard in our house, so that's what I used.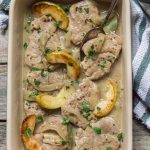 Easy Pork and Apple Skillet (in one pan!)
Easy Pork and Apple Skillet made all in ONE PAN in less than 30 MINS!
Ingredients
1.5

lb

pork tenderloin

sliced into medallions about 3/4 inch thick

2

tbsp

cornstarch, seasoned with salt and pepper

arrowroot for paleo

2

tbsp

coconut oil

1

Onion

sliced

2

granny smith apples

sliced not peeled

1.5

cups

chicken or vegetable stock

300ml

2

bay leaves

1

tbsp

wholegrain mustard

2

tbsp

chopped parsley
Instructions
Cut the pork into 3/4 inch medallions and toss them in the seasoned cornstarch.

heat half the oil in a non stick skillet and fry the pork in batches, a couple minutes each side then remove pieces to a plate.

add the remaining oil and add the onions and apple and fry for 2 - 4 minutes

add the stock, mustard and bay leaves and parsley.

heat the stock up and return the pork to the pan, do not boil but simmer for 15 minutes or until pork is cooked.

Serve with green beans and mashed potatoes!
This post may contain affiliate links . There are no additional costs passed on to you if you click on the links in this post. Any money earned from commission helps me cover the cost of maintaining this website.