You'll love this Easy Gluten Free Beef Chili recipe! It's perfect comfort food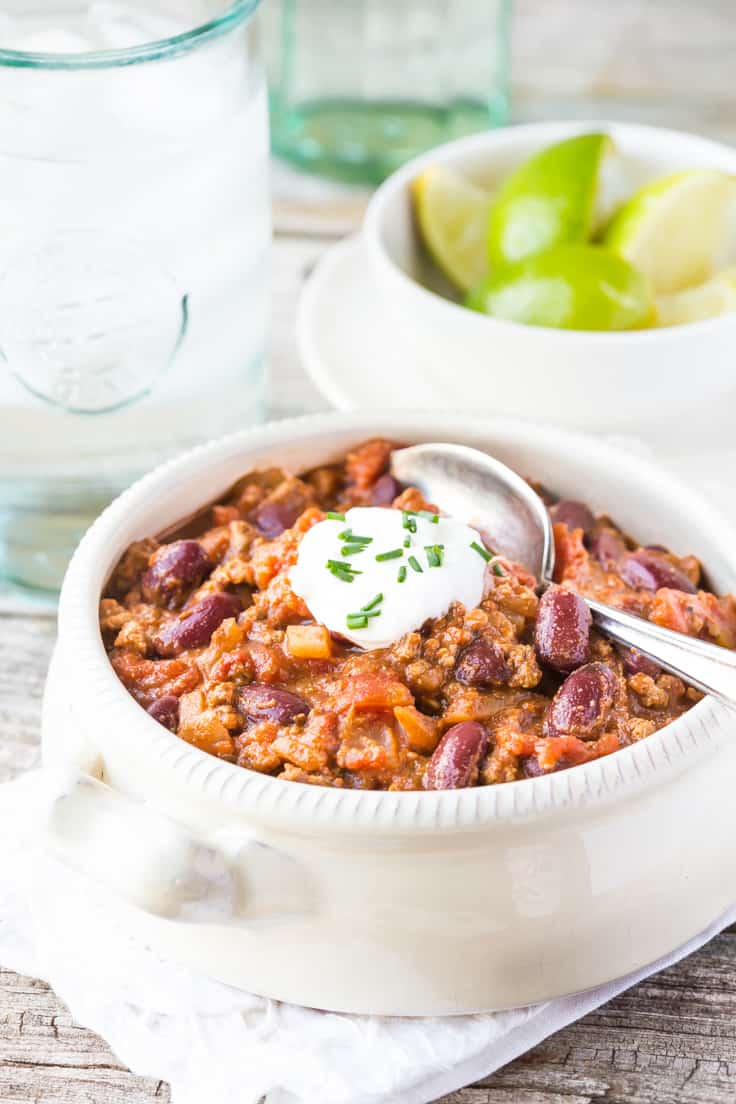 Gluten Free Beef Chili
We love a good gluten free beef chili as much as the next family and this recipe is very easy to make.
I think the key to a really great chili is to add enough cumin, chili and salt for your tastes, and if you have time to leave it overnight in the fridge it will improve the flavor.
I know you can buy ready made chili seasoning mix and it's handy in a pinch, but if you have cumin and chili powder you can dispense with the packet mix and you'll have a much nicer meal! Do make sure your spices are not really old as they can lose their spiciness if they've been in your pantry for a very long time.
This recipe can be made and is ready to serve in less than an hour and it's still very tasty even if you don't refrigerate it overnight, we ate it over several days and it was delicious each time!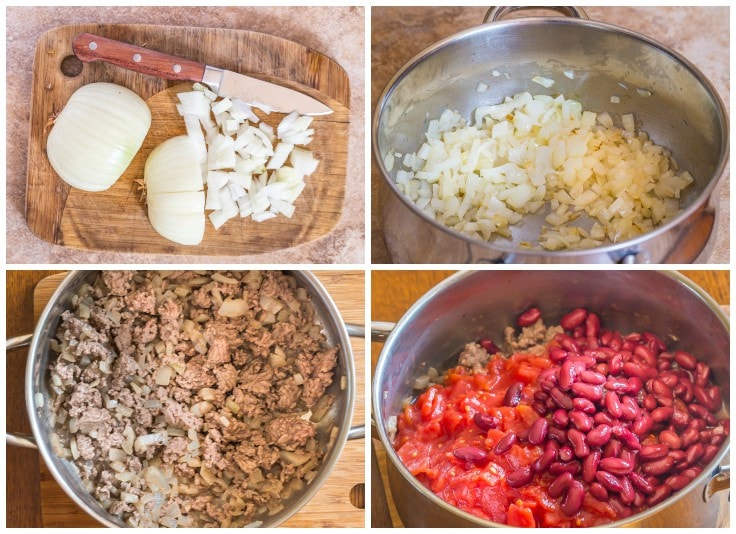 I tend to go easy on the chili powder and cayenne pepper because the kids just can't handle any heat, my husband usually reaches for the hot sauce to amp it up a little but if you know your whole family like it hot I would add a little cayenne pepper during the cooking process instead.
Any time I've eaten chili back home in the UK it was always served over rice whereas here in the USA it tends to be loaded in a bowl with sour cream and cheese with crackers on the side.
I sometimes use a dairy free sour cream, but I've also I've found that a big dollop of guacamole and some sliced green onions is just as nice, you should feel free to add whatever you like to serve it with!
It will keep well in the fridge for several days and as I mentioned above the flavors will improve over a day or two. It also freezes very well so you could easily double or triple the recipe and have some in the freezer for another day.
If you want to make this in your Instant Pot Pressure cooker then this recipe for Instant Pot Chili works really well and tastes great!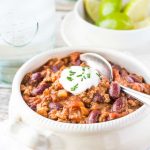 Gluten Free Beef Chili
You'll love this Easy Gluten Free Beef Chili recipe! It's perfect comfort food and it so easy to cook. Made with ground beef it's a quick weeknight meal.
Total Time
1
hour
5
minutes
Ingredients
1

lbs

ground beef

1

large onion, diced small

2

tbsp

oil

2 x 14.5

oz

cans diced tomatoes

15

oz

can red kidney beans

2

garlic cloves

1

tbsp

chili powder

( I like Ancho chili)

1

tbsp

cumin

1

tsp

oregano

1

tsp

salt
cayenne pepper

(optional, for more heat)
Instructions
Chop up your onion, and add it to a pan with oil preheated on a medium high heat.

cook until soft, for three or four minutes.

Add the beef and stir until browned, about five to ten minutes. You may need a little more oil if your beef is very lean, also don't have the heat too high, you don't want to burn the onions!

Then add the rest of the ingredients, stir well, and simmer for about 30 - 40 minutes.

taste and adjust the seasoning, I don't add too much chili as I'm serving it to kids and they won't eat it hot, you could add some cayenne pepper if you want to kick up the heat a little.
Nutrition Facts
Gluten Free Beef Chili
Amount Per Serving
Calories 461
Calories from Fat 270
% Daily Value*
Total Fat 30g 46%
Cholesterol 80mg 27%
Sodium 966mg 40%
Potassium 688mg 20%
Total Carbohydrates 20g 7%
Protein 25g 50%
* Percent Daily Values are based on a 2000 calorie diet.
This post may contain affiliate links . There are no additional costs passed on to you if you click on the links in this post. Any money earned from commission helps me cover the cost of maintaining this website.