I love, love, love this Paleo Pot Roast,  it's a regular on our weekly dinner menu!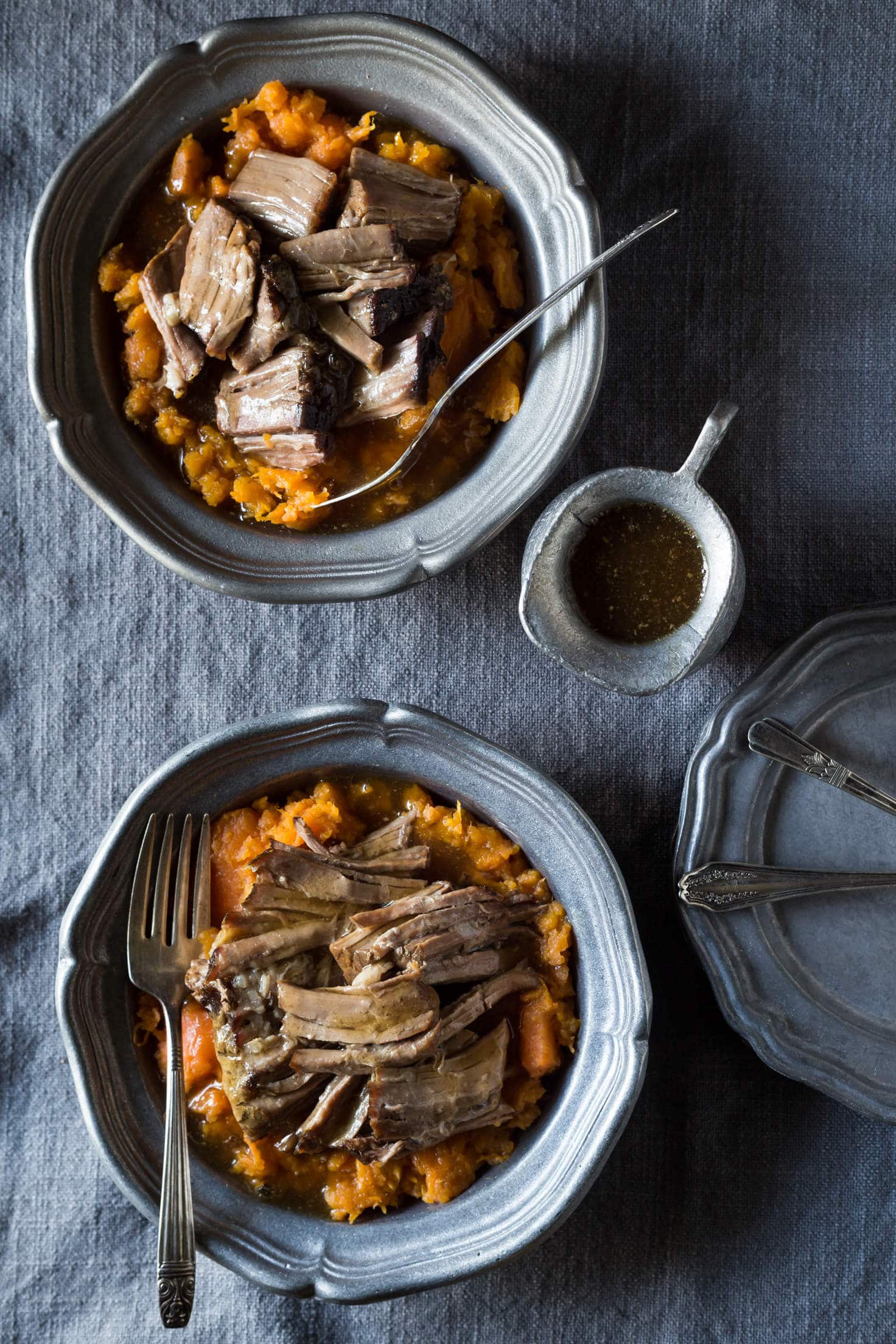 How to cook Paleo Pot Roast
Back in the day before I was gluten free and not long after we had moved to the USA, I was served a pot roast made with canned soup and packet of soup mix, you know the one.
I have to admit the gravy tasted pretty nice, but I wasn't really thrilled about adding all the unpronounceable ingredients such to a nice piece of meat, so I don't make it that way. Not to mention it's really hard to find any of that stuff gluten free anyway.
Not to mention it's really hard to find any of that stuff gluten free anyway.
This recipe has very simple ingredients but is no less tasty than the recipe made with canned soup, and it happens to be gluten free, Paleo and Whole30 compliant, pretty great right?!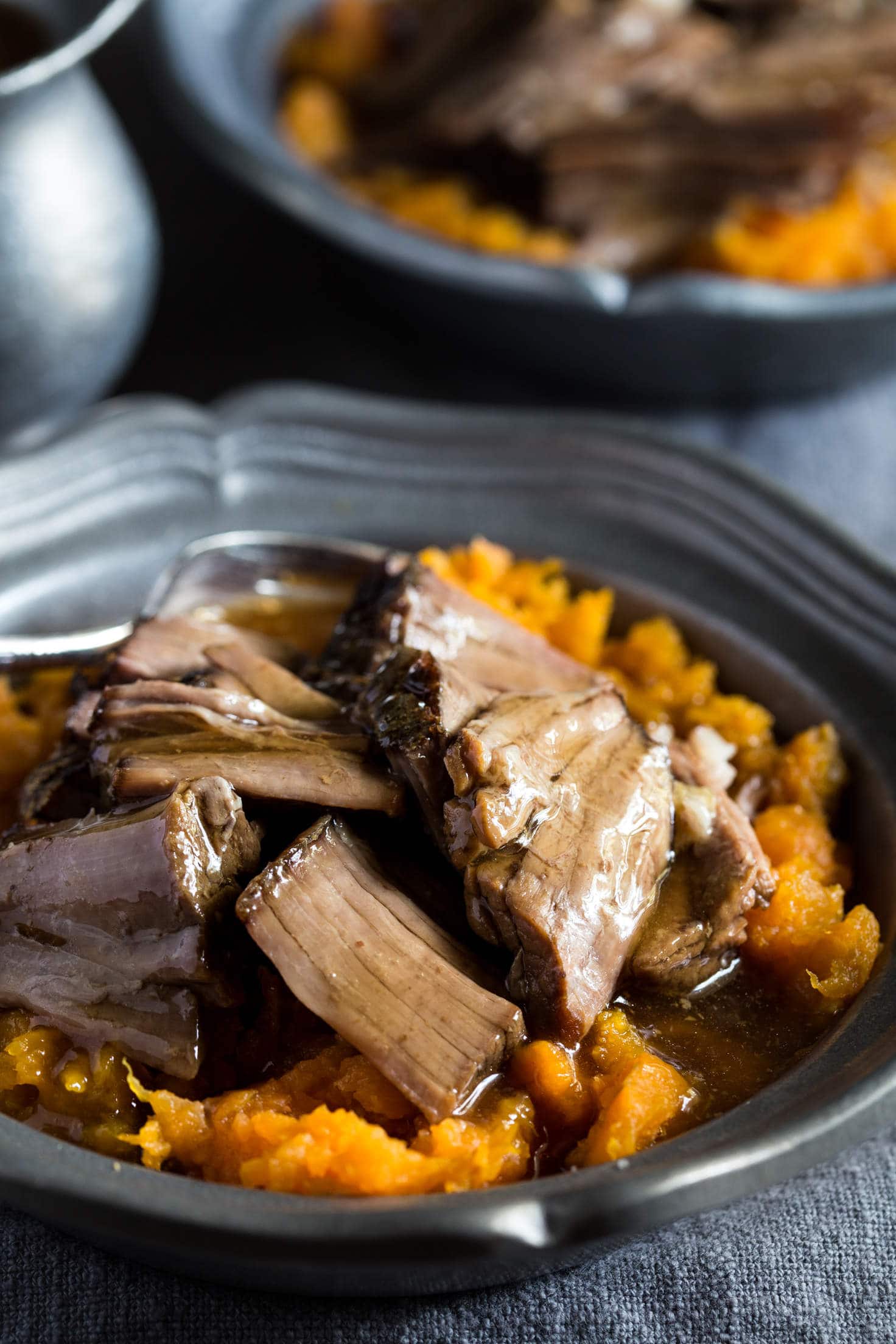 Really a pot roast is a pretty full proof dinner, you just throw it all in the slow cooker and go. In the interests of full disclosure I should tell you that I have had a couple of epic slow cooker failures, my most common one is forgetting to plug it in and then coming home hours later expecting dinner to be ready, so don't make that mistake!
And it's a myth that you can leave things in the slow cooker for as long as you like, too long and the meat will usually become stringy and tasteless, but if that happens you'll at least have a great tasting gravy to smother the overcooked meat in!
I served this over mashed sweet potatoes with lashings of gravy, it was superb, even if I do say so myself 🙂 My family agrees so I've  made it twice already this week, and I already have it planned to make again next week.
Every time I make it I'm blown away by how such a simple meal that requires minimal effort and zero cooking skills (the slow cooker does all the cooking for you) can taste so good!
*This post may contain Amazon affiliate links*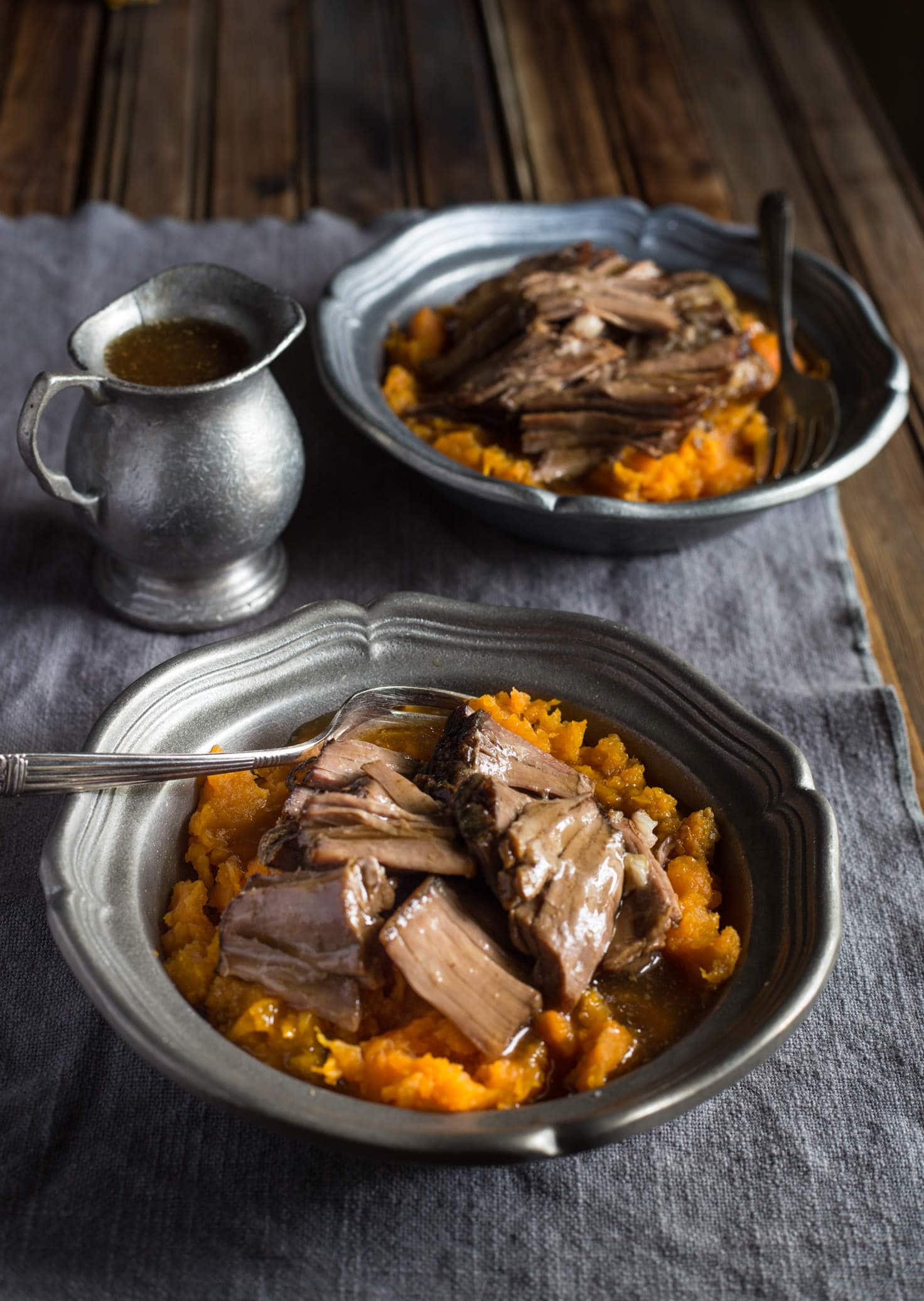 MORE EASY WEEKNIGHT DINNER RECIPES!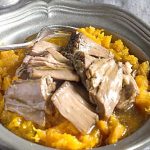 Whole30 & Paleo Pot Roast!
The ultimate in easy slow-cooked comfort food, this Whole30 & Paleo Pot Roast will be sure to please your whole family!
Total Time
4
hours
20
minutes
Ingredients
4

lb

boneless chuck roast

1.81 kg

1

cup

gluten free beef stock * see notes for whole30/paleo

250mls

2

onions

1

lb

small potatoes

or sweet potatoes

1

lb

carrots

peeled

2

celery sticks

cut into pieces

1

sprig of thyme

3

leaves

bay leaves

2

cloves

garlic

crushed

salt

pepper

2

tbsp

arrowroot

or cornstarch if not paleo
Instructions
If you are following Whole30 you will need to use homemade beef broth or use water, I haven't found a whole30 compliant store bought broth.

If you cook it in the oven you will need to preheat it to 325F

If you prefer to brown the meat you can go ahead and do that, however in my experience if you are cooking it in a crockpot then it doesn't make a whole lot of difference by the time the meat is cooked.

Prepare the onions by peeling them and cutting into quarters then place them in the bottom of the crockpot along with half of the unpeeled washed potatoes, celery, and the crushed garlic.

Place the meat on top of the vegetables and season well with salt and pepper.

tuck the thyme and bay leaves along the sides of the meat, then put the carrots and remaining potatoes alongside the meat.

If you prefer to use sweet potatoes instead of regular potatoes then I would peel and boil them separately and then mash them, they are likely to turn to mush in the slow cooker if you cook them with the meat.

Pour over the beef stock and cook on the HIGH setting for 3 - 5 hrs.

If you are cooking it in the oven it will probably take between 2.5hrs - 3.5hrs

It really depends on your slow cooker how long it will take to cook it, the newer slow cookers (made in the last three years or so) tend to run hotter than older models so you might want to check the meat after three hours.

When the meat is cooked, pour off the liquid from the pot roast and put it into a pan on the stove top.

Add two tablespoons of arrowroot into a small bowl and mix with two tablespoons cold water.

Add half the arrowroot liquid to the pan with the gravy and stir on a medium heat until the gravy is thickened, if you need it thicker add some more of the starch mixture.

If you are using arrowroot it will thicken it just like cornstarch will, but I have found it can sometimes create gloopy lumps in the gravy, if that happens simply pour the gravy back through a sieve.

One last thing, I have found that you can easily overcook a pot roast. What typically happens is that the meat can become dry, stringy, and lose flavor as all the flavor goes from the meat into the liquid, so you end up with pretty tasteless meat and a fabulous gravy!
Recipe Notes
* I have found it hard to find store bought paleo or whole30 beef broth for this recipe. you could just use water as an alternative, it won't be quite as rich but it will work, or you could, of course, use your own home made beef broth.
Nutrition Facts
Whole30 & Paleo Pot Roast!
Amount Per Serving
Calories 764
* Percent Daily Values are based on a 2000 calorie diet.