You'll love my NO STIR Chicken and Mushroom Risotto Recipe! It's Insanely delicious and bakes easily in the oven in about 20 minutes!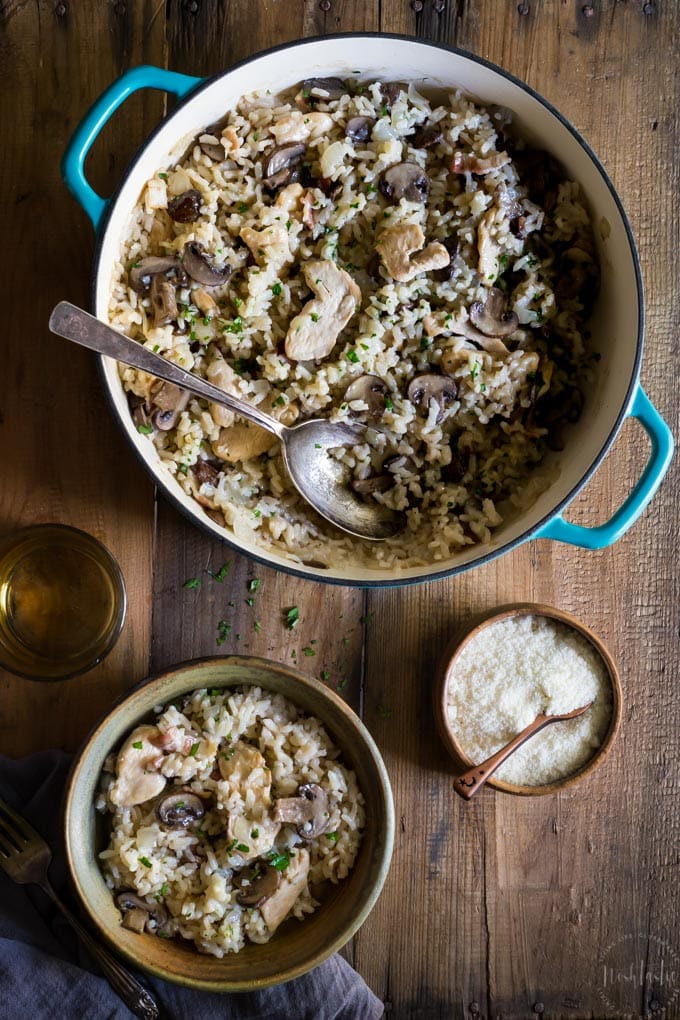 Chicken and Mushroom Risotto
Maybe it's because I'm not Italian, but I'd rather have root canal with a rusty nail than stand over the stove trying to cook risotto.
I've cooked it that way before, many times. But it always takes longer than I think it will and uses a LOT more chicken stock than the recipe calls for and even then I'm left wondering if I've cooked it properly.
I'm sure I'm doing it totally wrong but rather than giving up all hope of eating risotto ever again I've opted to bake it in the oven instead, pretty smart, right?!
Before the foodie Praetorian Guard appear in the comments section to tell me that this recipe is an affront to Italian grandmothers everywhere, that's fine by me! I make no claims that it's in any way authentic, I'm just looking for a recipe that still tastes great, is hassle free, and still gets a big thumbs up from my family.
How to make Risotto
So this section will be mercifully short because this is the easiest risotto recipe in the world!
Before you start make sure you put the oven on so you can move it from the stovetop to the oven right as soon as you've finished the stovetop part.You'll also need a suitable pan with an ovenproof lid, I uses my Dutch Oven for this recipe.
Cook the bacon and onion on the stovetop first, I don't usually add any oil because cooking the bacon renders out plenty fat but if you find it sticks feel free to add a little oil with the onions.
Please, please, please don't use 'cooking wine'! Y'all, that stuff is just nasty and will not do your risotto any favors, any cheap dry white wine will work though.
I'm dairy free for the most part, but I am able to tolerate a little goat or sheep milk cheese in small amounts. I used Pecorino Romano for this recipe, it's a sheep's milk hard cheese that's similar to Parmesan Cheese, you could use either or omit the cheese altogether if dairy is an issue for you.
Use Homemade Chicken Broth
You can use any broth you like for this and still end up with a wonderful meal, but if you really want to knock it out of the park using homemade chicken stock is the only way to go! If you keep the leftover bones from a roast chicken you can create a broth from that too, it just depends what you have on hand.
I prefer to use a whole chicken to make my own broth, in large part because it's often cheaper per pound to buy a whole chicken than buy the ready cut up parts.
I often cook it for just a few hours rather than the longer cooking time that most recipes call for, this way  I have a light chicken stock and the meat is still edible and not stringy . If you choose to cook it this way you can use the chicken stock and the chicken meat for your risotto, a win-win!
This post may contain Amazon affiliate links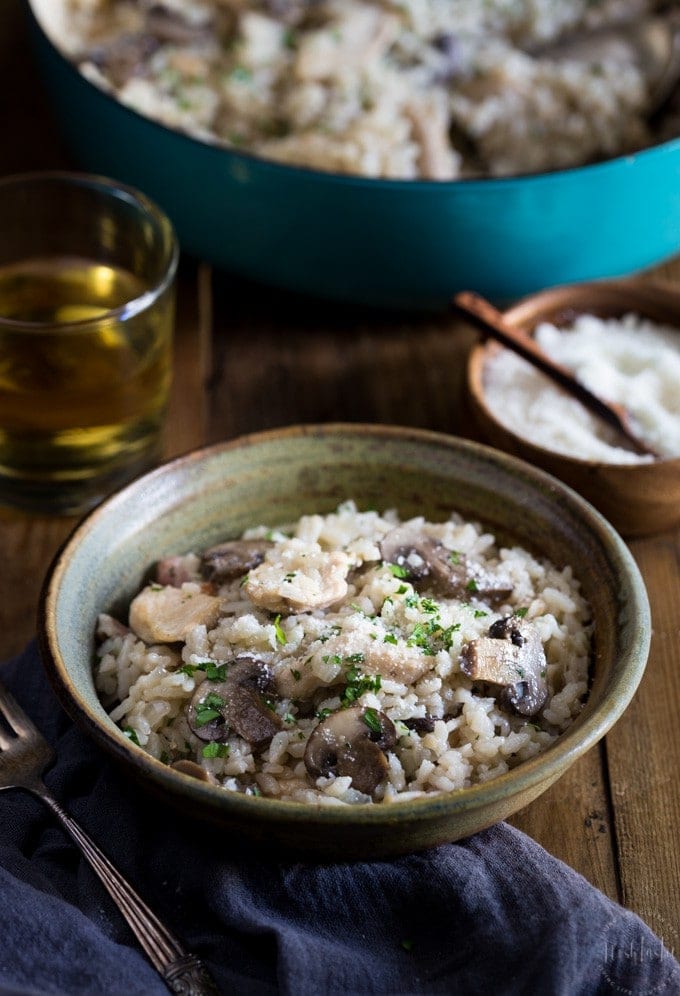 More Easy Chicken Dinners!
I have more chicken dinners that are perfect for weeknight meals,  I think you'll enjoy them!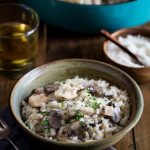 Easy Chicken and Mushroom Risotto
Ingredients
3

pieces

bacon

finely chopped

1

large onion

finely chopped

300

g

arborio rice

1.5 cups

125

ml

dry white wine

1/2 cup

625

ml

Homemade Chicken Stock

250

g

Baby Bella Mushrooms

thick slices, 8.5oz

140

g

chopped cooked chicken

1.5 cups

50

g

Pecorino Romano cheese

or Parmesan, 1/2 cup

2-3

tbsp

chopped Italian Parsley

1/2

tsp

salt
Instructions
Preheat your oven to 350F

You will need a large oven proof pan with a tight fitting lid (such as a

Dutch Oven

) that can also go on the stove top for cooking this recipe.

Add the bacon pieces to your oven proof pan and fry at a medium heat for about two minutes, you shouldn't need to add any additional oil.

Add the chopped onion and cook gently for 10 mins more until the onion is soft, don't let it brown.

Add the rice, wine, chicken stock and mushrooms and mix well, put the lid on the pot and put in on the middle shelf of the oven and cook for 30 minutes.

After 30 minutes remove the pot and check that the rice is fully cooked, it should have a consistency similar to rice pudding.

If the rice is cooked stir in the cooked chicken and cheese and return it to the oven for five more minutes or until the chicken is warmed through.

Stir in chopped parsley, add 1/2 tsp salt and more to taste. serve hot with additional cheese if desired.
Nutrition Facts
Easy Chicken and Mushroom Risotto
Amount Per Serving (420 g)
Calories 476
Calories from Fat 59
% Daily Value*
Total Fat 6.5g 10%
Cholesterol 42mg 14%
Sodium 1025mg 43%
Total Carbohydrates 69.9g 23%
Protein 26.8g 54%
* Percent Daily Values are based on a 2000 calorie diet.