Gluten Free  Apple Muffins with raisins, perfect for breakfast or a snack!


I remember when American Muffins first appeared in the UK, they were wrapped in plastic and sold in coffee shops and gas stations mostly. I was eager to try this fancy new food from across the Pond, but as I recall they were  dry and fairly inedible (and that was with gluten), I left the coffee shop wondering what all the fuss was about. Well nobody wants to eat a muffin like that and  you don't have to. As with most baked goods a homemade version is far superior to anything you can buy in a store or coffee shop. But you don't want a fussy recipe either, right? I know you'll enjoy my gluten free Apple Muffins as they're very easy to make and have a lower sugar content than a cupcake so you can happily indulge in one (or three) with your morning cup of tea or coffee without a guilty conscience. I think they are best made and eaten the same day, they are fresher that way.
And for my gluten eating readers this recipe will work with regular all purpose flour/plain flour in the same quantities, just omit the xanthan gum and reduce the baking powder by about a 1/2 teaspoon.
I find it easiest to measure out the dry ingredients first in one bowl and give them a quick mix with a fork, then your wet ingredients mixed in another. I don't bother peeling the apple, but you can if it really bothers you. You're not aiming for a smooth batter like you would for a cupcake so don't worry if it's a bit lumpy, it's all good. You do want to make sure that you scrape up all the flour from the bottom of your bowl though. This is not a super sweet muffin, you could add more sugar if you prefer, but then you're firmly into cake territory 🙂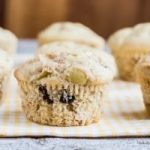 Gluten Free Apple Muffins with Raisins
Gluten Free Apple Muffins with raisins
Ingredients
75

g

dairy free margarine

3/4 stick, or butter if you prefer

200

g

gluten free flour

1&1/4 cup, all purpose

3

tsp

baking powder

1/4

tsp

Xanthan gum

omit if gum is in your GF flour already

1

tsp

cinnamon

75

g

granulated sugar

1/3 cup

200

ml

milk

I used unsweetened soy milk

1

large egg

40

g

raisins

1/4 cup

1

granny smith apple

cored and chopped small, no need to peel.
Instructions
Preheat the oven to 390F

Put 12muffins papers in your muffin tin.

Mix together dry ingredients in one bowl.

Melt the butter or margarine and set aside.

Whisk together the egg and milk, add in the melted butter/margarine.

Now add the egg/milk mixture to the flour mix and gently fold together to combine, you do not want to beat the mixture or overwork it, and don't worry about the occasional lump, you are not looking for a smooth cupcake batter.

Add apple and raisins and stir just enough to mix in the fruit, do not over mix.

Divide mixture between 10 to 12 muffin wrappers and bake for 20 minutes.

Best eaten on the day you bake them.
This post may contain affiliate links . There are no additional costs passed on to you if you click on the links in this post. Any money earned from commission helps me cover the cost of maintaining this website.