Delicious Gluten Free Apple Pie Cupcakes with lucious Caramel Topping!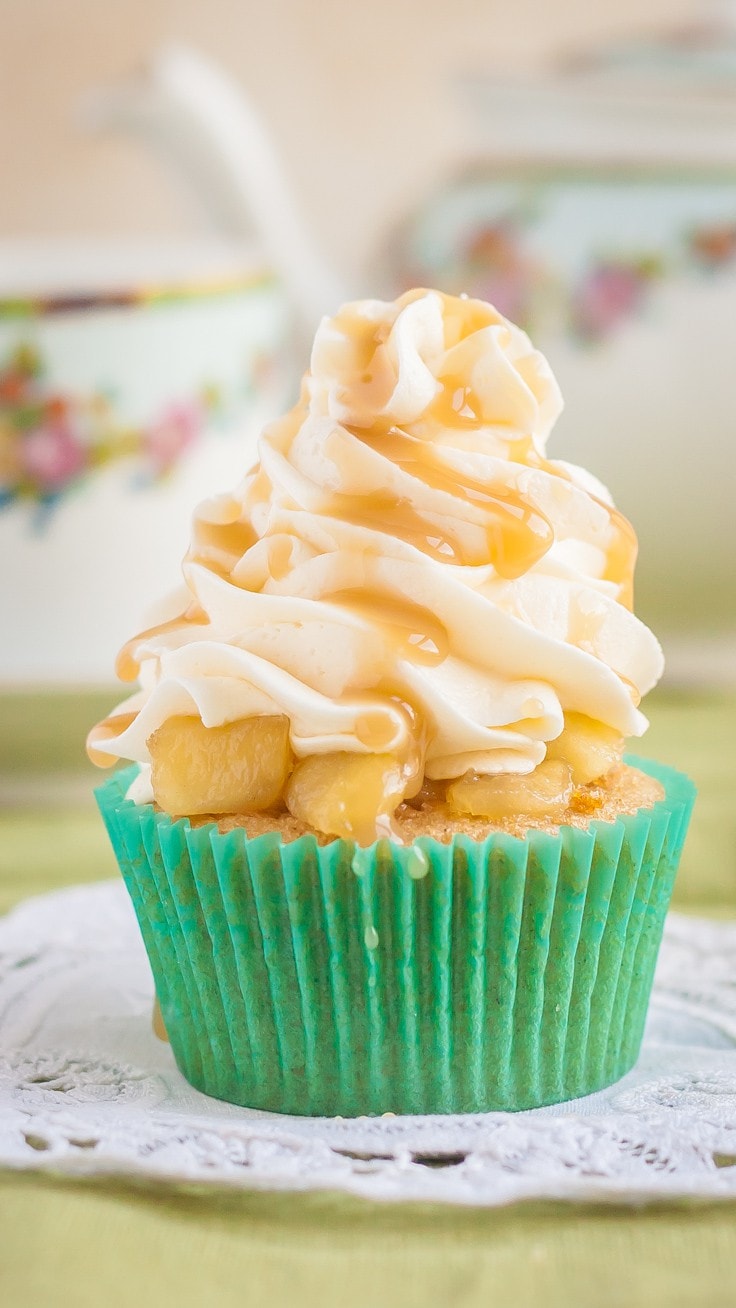 Cupcakes are a big thing these days, there are cupcake stores, cupcake wars, cupcake blogs and I'm sure there's a whole lot more cupcakery going on out there that I know nothing about.
I recently had a little look at  menus for some of these specialty cupcake shops, The variety of flavors available these days are simply mind boggling, gone are the days of a plain old cupcake with vanilla frosting, that's so 2008! Not to be outdone I figured I would try and gluten freeify a couple of them, so here's my first attempt with my Gluten Free Apple Pie Cupcakes.
I'm thrilled to report that it was a hit with my children, I realize that may be setting the bar low as they will pretty much eat anything with salt, fat, and sugar in it, but they insisted it was very good and better than your average cupcake. Number one son, who is twelve and about five inches taller than me, scoffed it down in two mouthfuls, I'm pretty sure that's a good sign.
If you're looking for a Gluten Free Red Velvet Cupcake, then this recipe from Flippin' Delicious will hit the spot!
As I mention in the notes section of the recipe, I always bake by weight as I've found it gives the most consistent results. Different gluten free flour blends can vary significantly in terms of how much they weigh and that can drastically alter the outcome of a recipe. These days I make my own All Purpose Gluten Free Flour Blend, it's really easy and I use a digital scale to weigh my ingredients.
This post may contain Amazon affiliate links
I used a piping bag with a 1M Wilton tip to pipe the frosting, if you don't have one you can simply spoon it on, it won't look as cute but it will taste just as good! I don't have one of those fancy cupcake coring tools and you don't need one either, I simply scooped out a little piece of the cupcake with a teaspoon measuring spoon, a melon baller would work well too. Then add a scoop of the cooked apple pie filling to the cupcake and top it off with some of the caramel sauce, pipe the frosting on after that and drizzle with some more caramel when you are ready to serve.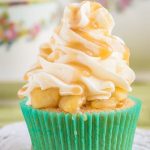 Gluten Free Apple Pie Cupcakes
Delicious Gluten Free Apple Pie Cupcakes with lucious Caramel Topping
Ingredients
CARAMEL TOPPING

1/2

cup

soft brown sugar

200g

1/2

cup

full fat coconut milk

120mls

2

tablespoons

water

30mls

CUPCAKES

2/3

cup

sugar

125g

1/2

cup + 2 tbsp

dairy free margarine, or butter

125g

2

large eggs

½

teaspoon

vanilla extract

1

tsp

cinnamon powder

1

cup + 1 tbsp

gluten free all purpose flour

125g

2

tsp

baking powder

1/4

tsp

xanthan gum

omit if your flour has gum added

2

tablespoons

dairy free milk

APPLE PIE TOPPING

2

pieces

granny smith apples

peeled and chopped into small

1/4

cup

dairy free margarine, or butter

55g

1/4

cup

soft brown sugar

50g

1/2

tsp

cinnamon

FROSTING

1

cup

dairy free margarine, or butter

200g

2

cups

powdered sugar, sifted

400g

1/2

teaspoon

vanilla extract
Instructions
*Please read the notes section before you start!*

CARAMEL TOPPING

This is optional, I suggest making this first if you intend to use it. add all ingredients to a pan on the stovetop and cook gently over a low heat until the sugar is melted. simmer for about 15 minutes until thickened.

CUPCAKES

Preheat the oven to 350f

Cream together the margarine and sugar.

Add the eggs, vanilla and cinnamon and mix until combined.

in a separate bowl mix sift together the flour, baking powder and xanthan gum.

Add the flour to the bowl along with two tablespoons of milk and and mix well.

Divide the mixture evenly into 12 cupcake wrappers and bake for about 20 minutes or until cooked.

Cool cupcakes on a baking rack

APPLE PIE TOPPING

While the cupcakes are cooking you can make the apple pie filling.

melt the margarine on the stovetop over a low heat, and add the chopped apple, stir to coat.

Add the brown sugar and cinnamon and melt, stirring all the time. When the sugar has melted cook apples gently over a low heat until cooked but not too soft, about 10 minutes.

FROSTING

in your mixer blend together all the frosting ingredients. If you think it's not sweet enough add some more powered sugar.

ASSEMBLY

when the cupcakes have cooled completely use a teaspoon measure or melon baller to remove a scoop from the top of the cupcakes (see photo)

fill the scooped out hole with some apple pie filling and top of with some caramel sauce.

Frost the cupcakes as you desire, I used a wilton 1M tip and piping bag, drizzle with caramel sauce prior to serving.
Recipe Notes
1. I bake by weight as I find that gives the most consistent results, especially when baking gluten free. One cup of your gluten free flour blend may not weigh the same as my blend, all the commercially available blends have different mixes and ratios of flour in them. I've weighed cups of different blends of flour and noted that a cup of gluten free flour can vary in weight from 125g up to as much as 170g depending on how you scoop it, and what type of mix you use. You can see how this could drastically alter the outcome of a recipe.

I recognise that most Americans are used to the cup method which is why I also include those measurements,but they may not give you accurate results. If you are a keen gluten free baker I would encourage you to invest in a scale, you can get one for only $10 - $15.

2.I prefer to use my own homemade gluten free flour blend as it's cheaper and I get really great results.

3. If you can, avoid buying flour with gums already added. The reason for this is that you have no way of knowing how much gum is in there and that can alter the outcome of the recipe. So for example, too much gum can give you a more sticky texture in a cupcake. And though the cupcake recipe will still work, it won't be as nice as if you measured and added the gum yourself.